Here I am, back to give you juicy information about more on-going promotions and sales blogshops are having! So click a link below and start shopping! Enjoy!
Iccy.House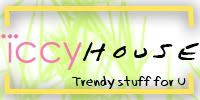 They're having promotions on these items on their website:
Double - usual price RM60, now RM52
Floral - usual price RM52 , now RM48
Ketchup T (guys T) - usual price RM39 , now RM29
Cottage - usual price RM59 , now RM45
Crazy Wardrobe
Giving free postage for RM150 and above!!
Fake the Brand
Promotion from 9th Dec to 14th Dec
10% discount
off from all items
FREE
postage
Purchase with purchase deal
Elegant-Extravaganza
Clearance Sales
!
Prices slashed way low!
***********************************************************************************
For blogshops out there that want to advertise your sales or promotions here. Just drop me an e-mail including these information:
Blogshop Name:
Blogshop URL:
Promotions/Sales: